FBE – Fusion Bonded Epoxy

EXTERNAL COATING AND INTERNAL LINING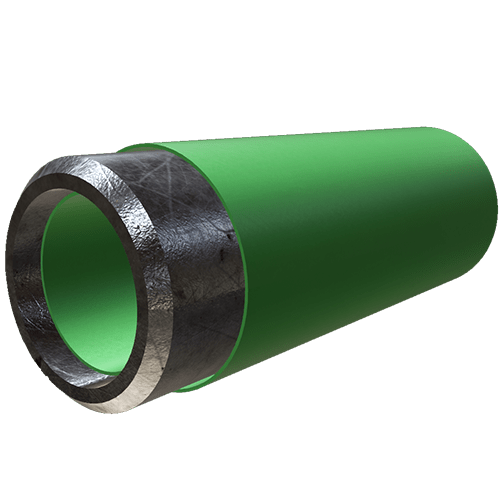 V.I.P. Verniciatura Industriale Pesarese srl is one of the few companies able to offer Fusion Bonded Epoxy (FBE) coating on special pieces as well as on pipes.
The best epoxy resin powder applied on pre‐heated surfaces.
Thermosetting coating designed for the anticorrosive protection of articles destined to immersion or buried services in oil and gas sector and in the protection of the water pipeline.
The coating can be applied in a single double or triple layer and the method used guarantees that the coating can be applied with differentiated thickness as required by the specification.
Approved for Drinking Water
Single and double layer coating
The single and double layer include a range of applicable products for meeting the most varied requirements in relation to pipeline protection.
It is one of the most economic coatings for pipelines.
Main advantages:
– Excellent adhesion to the metal substrate.
– High resistance to cathode detachment.
– Excellent resistance to corrosion and mechanical properties.
– Resistant to bending even when the film is very thick.
Long-lasting corrosion protection
The FBE primer offers an excellent adhesion to the substrate and provides a long-term corrosion protection for pipelines operating at moderate temperatures.
It also ensures the resistance to the cathodic disbondment so the total cost of cathodic protection of the pipeline decreases.
Small and large pipes
Standard and special fittings
Wide radius bends
Flanges
Custom pieces
Elongation at Break : > 600%
Hardness : Shore D 52
Minimum recommended temperature : – 40°C
Maximum recommended temperature : + 80°C
*Sintering is the coating process where a coating powder is sprayed on a preheated piece. Thanks to the heat emitted from the surface the powder fuses creating an homogeneous and continuous layer.
Selected from among the top qualified international brands by the biggest companies.
Selected raw materials and internationally recognized with qualifications from certified bodies.
(AWWA ‐ KIWA ‐ DNV etc.)
FBE PROCESS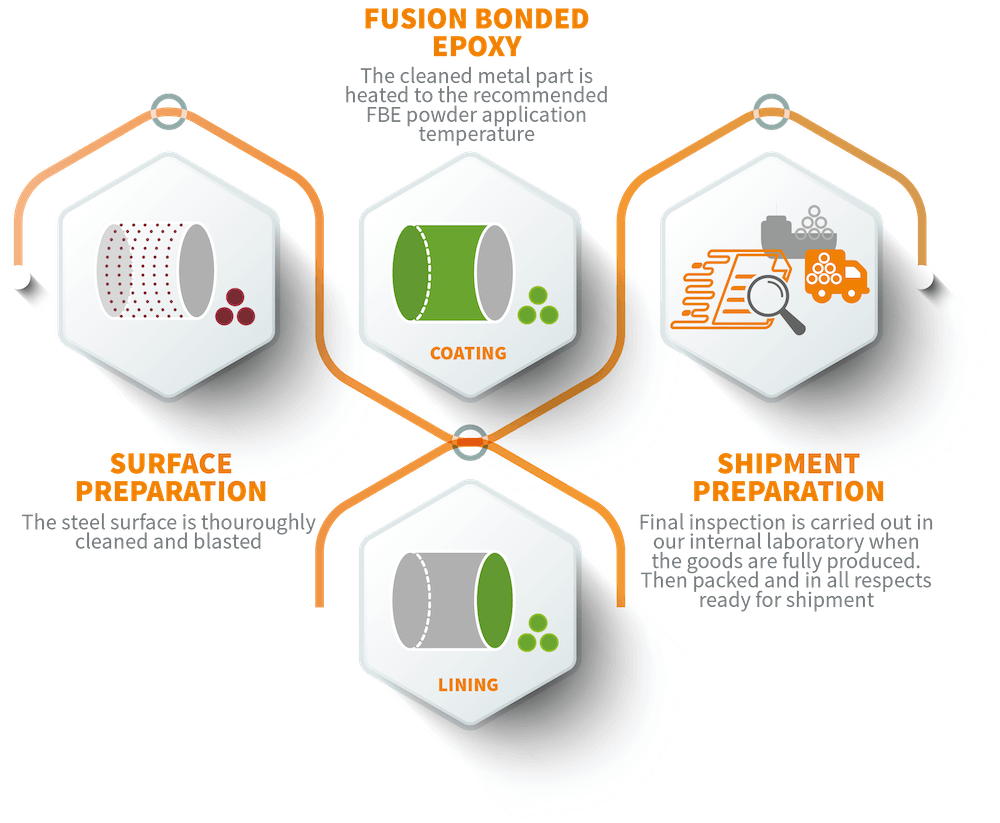 INSPECTION AND TESTING
| Property | Test Description | Typical Values |
| --- | --- | --- |
| Degree of cure of epoxy resin | DIN 30670 | ∆Tg according to the manufacturer specifications |
| Impact | DIN 30670 | ≥ 7 J/mm |
| Cathodic Disbondment | DIN 30670 | 23°C/ 28 days or 60°C/ 2 days max 7 mm |
| Peel Strenght | DIN 30670 | 35 N/cm at 23°C; 15 N/cm at 70°C |
| Continuity (holiday detection) | DIN 30670 | 10 kV/mm; max 25kV |
COATING CAPACITY
Pipes:
Diameter from 1/2" to 120"
Maximum unit length 13.5 meters
Maximum unit weight 15,000 kg.
Joints and/or custom pieces: (bends, tees, reducers, flanges, etc.)
Maximum size 3.0 x 3.0 x 13.5 meters
Maximum unit weight 15,000 kg
Maximum thickness of the coating 3,5 mm
FBE Coating – More application
V.I.P. Pesaro takes care of customers needs designing custom coatings for special pieces in order to always satisfy clients expectations. Since more than ten years we are providing our protective solutions worldwide.
We offer specific consultancy since the analyses of project requirements. We design the best solution selecting with the client the most suitable coating and the best applicable technique. After realization, we carry out laboratory tests to truly guarantee a perfect results.